Researchers win best paper at sensor networks conference
ADSC researchers received the best paper award at the 2017 International Conference on Information Processing in Sensor Networks (IPSN) for their work on securing the power grid using natural timestamps in the power grid's frequency fluctuations sensed from the powerline electromagnetic radiation (EMR).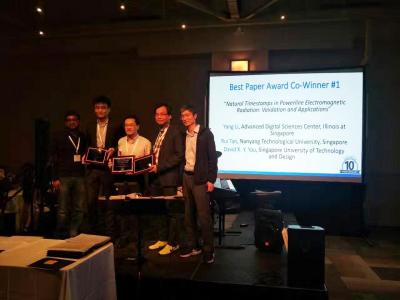 "We are quite concerned with the clocks in a power grid system because if the clocks aren't right, the operator can't record the data from the system correctly, which could have a tragic impact on the system," said
Rui Tan
, an ADSC adjunct senior research scientist and assistant professor of computer science and engineering at Nanyang Technological University. "We're looking at how a cyber attacker could target the clocks and maliciously change them."
According to Tan, many systems still use legacy protocols regarding their clocks that were developed 30 to 40 years ago, leaving them especially susceptible to attacks.
The researchers designed an algorithm that evaluates the time accuracy of natural EMR timestamps on two different IoT platforms: a high-end single board computer with a customized EMR antenna and a low-end mote with a normal conductor wire acting as an EMR antenna. Both platforms can achieve lower sub-second accuracy.
"Our technique is unique because we use properties of the physical system to help the computing system," Tan said. "Researchers usually focus on the other way, using computers to help control the physical system."
As energy runs through a system, the power grid frequency is continuously fluctuating. The fluctuation is random, but identical across a large geographic area, and gives researchers a fingerprint of the grid.
"If we can capture these fluctuations, we can compare one device's fluctuations to the fluctuation of a data trace collected somewhere else," Tan said. "This helps us know the time the nodes captured the fluctuations." They call the time inferred from the fluctuations as powerline forensic time.
There are many existing approaches that help keep the clocks synchronized, including GPS, FM radio or Wi-Fi beacons, but these methods each have intrinsic problems, such as being power hungry, too expensive, susceptible to network delays or outages, or an inability to consistently achieve a common notion of time.
"Our advantage is that we don't suffer from the delays in transmitting the packets used for time synchronization and we can see global time," said ADSC postdoctoral researcher Yang Li. "Our approach is very easy to use; we even don't have to rely on a network, it's accurate and it's affordable."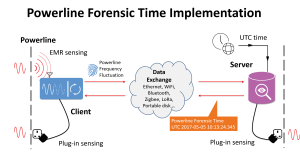 During their conference presentation, Yang demonstrated their technique using sensors they have installed at their homes, at NTU, and at ADSC. The researchers stream the sensors' fingerprints to a server at ADSC and assess the accuracy of the fingerprints in representing time.
"We have an interface to display the clock synchronization accuracy and at the conference, we showed this in real time," Yang said.
Since their presentation, they have installed additional nodes at several locations across Singapore, including commercial buildings, campuses, and apartments, with up to 24 kilometers between the nodes. Preliminary results validate that their approach could be deployed city-wide.
The researchers were encouraged by the response they got at IPSN, which is a top conference in sensor networks, and are planning to develop a product based on their technique that could be commercialized.
"In addition to commercializing, we're looking to make hardware improvements, as it's a bit clunky right now," said ADSC senior software engineer Sreejaya Viswanathan. "We're hoping it could be the size of a credit card and easily plugged in. We're developing a new demo, as well."
Prior to this IPSN paper, the research group also published a paper in the 2016 IEEE Real-Time Systems Symposium (RTSS) on obtaining the natural timestamps directly from wall power sockets. These natural timestamps are more accurate, achieving sub-millisecond accuracy.
The research was funded under the Energy Innovation Research Programme (EIRP, Award No. NRF2014EWTEIRP002-026), administrated by the Energy Market Authority (EMA). The EIRP is a competitive grant call initiative driven by the Energy Innovation Programme, and funded by the National Research Foundation (NRF).